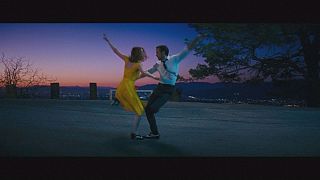 "La La Land" won big at Britain's BAFTA film awards. It scooped five gongs including best film, while Emma Stone and Damien Chazelle picked up awards for best actress and best director.
"In a time that is so divisive I think its really special that we were all able to come together tonight thanks to BAFTA to celebrate the positive gift of creativity and how we can transcend borders and how we can help people to feel a little less alone," Emma Stone told the audience after receiving the best actress award.
The BAFTAs, are often seen as a pointer as to who will win at Hollywood's Academy Awards.
The romantic musical about a struggling actress and a jazz pianist trying to make it in Hollywood has 14 Oscar nominations.
Emma Stone's co-star, Ryan Gosling, lost out on the best-actor prize to Casey Affleck, who played a grieving handyman in "Manchester by the Sea."
Viola Davis won best supporting actress for "Fences," Denzel Washington's adaptation of August Wilson's stage drama about an African-American family.
Viola Davis gave an emotional speech at the BAFTAs about African-American lives https://t.co/3t6oIn5rBbpic.twitter.com/tmNZBIXoSt

— BuzzFeed (@BuzzFeed) February 12, 2017
'I Daniel Blake' was named Best British film. The 80-year-old director Ken Loach had a political point to make with the government in his sights .
"Thank you to the Academy for endorsing the truth of what the film says which hundreds of thousands of people in this country know and that is that the most vulnerable an poorest people are treated by this government with a callous brutality that is really disgraceful," the veteran director said.
'I, Daniel Blake' is about a middle aged carpenter and a single mother as they struggle with the British kafkaesque impersonal social care system.
#BAFTAs Best Film Award to I Daniel Blake
Not just a victory for Ken Loach & his wonderful cast& crew
It's a victory for REAL#BritishValuespic.twitter.com/z7GWShEJT4

— Momentum Oxford (@MomentumOx) February 13, 2017