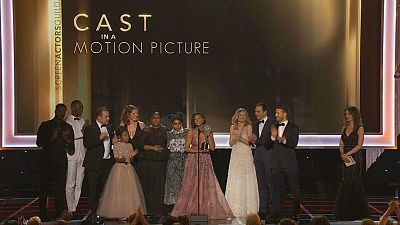 Forget the dresses – it was politics that stole the show at the Screen Actors Guild Awards in Los Angeles.
Actors used the spotlight to deliver fiery speeches attacking Donald Trump's ban on Muslim travelers entering the US.
Opening the awards show, Ashton Kutcher set the tone: "Good evening, fellow SAG-AFTRA members, and everyone at home, and everyone in airports that belong in my America. You are a part of the fabric of who we are and we love you and we welcome you."
The hit musical 'La La Land' found predicted glory in the form of Emma Stone, who was named best actress for her leading role.
Collecting her award, she said: "We're in a really tricky time in the world and our country, and things are very inexcusable and scary and need action and I'm so grateful to be part of a group of people that cares and wants to reflect things back to society."
Hidden Figures was the surprise winner of the night; beating off the competition to scoop best film ensemble.
The film tells the true story of three African-American women who helped fire John Glenn in to space.
Surrounded on stage by the film's cast, lead actress Taraji P. Henson said: "This story is of unity. This story is about what happens when we put our differences aside and we come together as a human race. We win. Love wins every time. "
Denzel Washington was one of the big winners of the night; taking home best actor award for his portrayal of a former professional baseball player struggling to provide for his family in 'Fences'.
Viola Davis thanks 'Fences' author for elevating black narrative in her moving #sagawards speech https://t.co/UkcgRmAw33pic.twitter.com/Zby6fIolRk

— HuffPost BlackVoices (@blackvoices) January 30, 2017
And Mahershala Ali picked up his first SAG award for his supporting role in Moonlight, which tells the story of a drug dealer who befriends a troubled young boy.