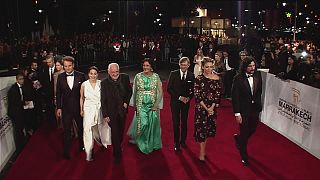 The brollies were up in Marrakech but the rain didn't dampen the enthusiasm of the crowd at the opening of the 16th international film festival.
The jury, headed by legendary Hungarian director Bela Tarr will have to chose its winners among 14 films from across the globe, from Asia to South America, Africa and Europe.
#Marrakech International #Film Festival Kicks Off https://t.co/EKi3pZJy5L#Morocco#Cinema

— Morocco World News (@MoroccoWNews) December 2, 2016
It is a rich selection which reflects the festival's global perspective according to British actor Jason Isaacs.
"I think anytime you celebrate film, certainly those films that aren't about superheroes, that don't have a hundred million dollar publicity budget, it's important to celebrate and give them a profile so that we are all reminded we need to watch and learn how other people live, think and feel in other parts of the world because it looks like today's world is fragmenting more and more," he opined.
US director Jessica Woodworth's film 'King of the Belgians' was one of the first screened as part of the official competition.
"It's a festival which proposes a varied selection of very committed films – films that are very engaging and politically committed, and we need that. We live in times of crisis and it's absolutely necessary to confront the public with movies that are politically committed," explained the director.
'King of the Belgians' is a mockumentary about a Belgian monarch stuck in Turkey when Wallonia secedes, and who is forced to take a road trip through the Balkans to get home.
Euronews correspondent Lise Pedersen reported from the festival "The Marrakech film festival is not just a chance to discover new and exciting cinematic gems from around the world, it's also an opportunity to pay homage to some of the great figures of the world of cinema."
Among them this year is cult Japanese director Shinya Tsukamoto. Euronews met up with him to discuss his latest movie – this time, as an actor, in Martin Scorsese's latest film 'Silence'."
Asked what it was like working with the man he describes as his favourite US director, Tsukamoto said, "It was like a dream come true."
'What impresses me most is the respect he has for his actors. He has a huge capacity to listen and he takes in his actors' proposals, which he really integrates into his films. The result is a truly 100 percent Scorsese film which nevertheless takes inspiration from what others bring him, and I really find that admirable."
"A special tribute was paid this year to the late Iranian master Abbas Kiarostami"http://variety.com/2016/film/global/marrakech-film-festival-remembers-iranian-master-abbas-kiarostami-1201933335/, who passed away in July.
Euronews reports all this week on the latest from the red carpet in Marrakech.