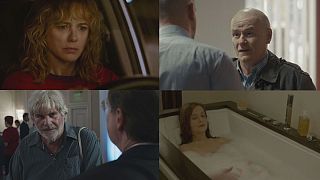 Maren Ade's 'Toni Erdmann' leads the pack for the European Film Awards with six nominations including Best Film and Best Director.
It tells the story of an unconventional German school teacher who pays his workaholic daughter a surprise – and unwelcome – visit. German writer-director Maren Ade's third feature film, 'Toni Erdmann' is Germany's entry for Best Foreign Language Film at next year's Oscars.
Among the five contenders for Best Film at the European Film Awards are four that debuted in Cannes, including Ken Loach's Palme d'Or winner 'I, Daniel Blake'.
It tells the story of a 59-year old carpenter recovering from a heart attack who befriends a single mother and her two children as they navigate their way through the kafkaesque benefits system.
Paul Verhoeven's 'Elle', starring Isabelle Huppert, has notched up three nominations for Best Film, Best Director and Best Actress. The story of a successful businesswoman who gets caught up in a game of cat and mouse as she tracks down the man who raped her, the film failed to pick up any awards in Cannes despite rave reviews for Huppert's performance. It has been selected as France's entry for Best Foreign Language film at the Oscars.
Also competing for Best Film, Best Director and Best Actress is 'Julieta' by Pedro Almodovar. Adapting three short stories by Alice Munro, Almodovar traces more than three decades of life's surprises and tragedies in this tender melodrama, which is Spain's Oscar entry for Best Foreign Language Film.
And the fifth contender for Best Film is Lenny Abrahamson's 'Room', which was nominated for Best Picture at the Oscars and earned Brie Larson the Best Actress award.
Based on Emma Donoghue's best-selling novel, 'Room' is the harrowing tale of a young woman held hostage for seven years in her neighbour's garden shed.
The winners of the European Film Awards will be announced in Wroclaw, Poland on December 10.