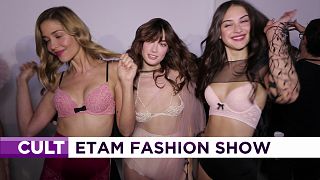 French lingerie brand Etam celebrated a centenary of underwear at the Pompidou Centre in Paris.
The show was a spectacular success at the opening of Paris Fashion Week.
.etam_france</a>&#39;s runway was red-hot last night: <a href="https://t.co/AQG2J20z7m">https://t.co/AQG2J20z7m</a> <a href="https://twitter.com/hashtag/PFW?src=hash">#PFW</a> <a href="https://t.co/6QhEKlznWR">pic.twitter.com/6QhEKlznWR</a></p>&mdash; Fashion Unfiltered (FashUnfiltered) September 29, 2016
From humble beginnings the company now sells to some 50 countries worldwide.
Euronews reporter Wolfgang Spindler got to see the frilles at first hand:
"What's good about a lingerie fashion show is you show little, but see a lot. The fashion market is very tough, strategy is always under the microscope in hope of finding new markets."
France's biggest lingerie brand etam_france</a> celebrates 100 years with an anniversary show in Paris: <a href="https://t.co/CrXMvASHNO">https://t.co/CrXMvASHNO</a> <a href="https://t.co/vaTGlUxCmG">pic.twitter.com/vaTGlUxCmG</a></p>&mdash; Vogue Runway (VogueRunway) September 29, 2016
Laurent Milchior is Etam's director general:''It's 100 years for the Etam brand famous for liberating women, the French woman, the French libertée, we want to emphasise the French nature of the brand to push our international development in the next 100 years, it will be a strong international development that's important."
French lingerie,music and models as Marina Kaye performed.
Etam's director general is Marie Schott:"Yes it is underwear, but more than that, we can do what we want with it and it is a great moment, initiated by women that here we don't hide our lingerie, we are proud of it, we play with it."
Loved being a part of this amazing show❤️ etam_france</a> <a href="https://t.co/xXmEb9zgIy">pic.twitter.com/xXmEb9zgIy</a></p>&mdash; Rose Bertram (RoseBertram) September 28, 2016
French designer Nicolas Fafiotte famous for his wedding dresses and evening wear added the sophistication with embroidery and designed the accessories:" We made lots of items this year about 90 pieces,
including this one with about 2,000 to 2,500 stones all hand sewn, we had fun."
French crooner Jaques Dutronc the serenaded models and audience.
Despite the company's scale it is still a family firm now into its third generation. Pierre Milchior took over the business when his father died and his son and brother now head the company with €1.2 bn turnover: "It is a great pleasure for a father to see his son carry on, a real pleasure, and he is doing really well and so are all the teams," said Pierre Milchior
Wall to wall glamour as Etam celebrated its anniversary with a colourful and refined collection."