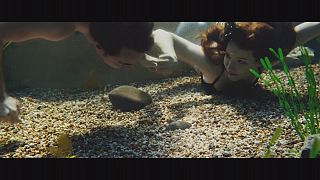 'Scottish Mussel' is a romantic comedy, which sees chancer, Ritchie, attempt to make money as an illegal pearl fisher.
#Edinburgh folks get down the CameoCinema</a> today for a lunchtime serving of <a href="https://twitter.com/hashtag/ScottishMussel?src=hash">#ScottishMussel</a>! <a href="https://t.co/z6yOwlPoNB">https://t.co/z6yOwlPoNB</a> <a href="https://t.co/bgLR7V2S0s">pic.twitter.com/bgLR7V2S0s</a></p>&mdash; Scottish Mussel Film (ScottishMussel) September 25, 2016
He meets and falls for Beth a conservationist bent on saving the mussels from the pearl theives in the Scottish highlands.
Exclusive Interview: We talk to TalulahRiley</a> about making her feature debut <a href="https://twitter.com/ScottishMussel">ScottishMusselhttps://t.co/ZjjkiAlU4Tpic.twitter.com/SbpIxBRkPw

— HeyUGuys Movie News (@HeyUGuys) September 23, 2016
Talulah Riley, actor, writer and director spoke about how the idea came about: ''My father is Scottish and he's a writer and he had been collecting information out of the newspapers about the plight of Scottish freshwater mussels, which are in trouble. They are endangered up there, they are protected. And he had this idea to do a sort of gritty goes out an tries to get the mussels thing and then I stole the idea and bastardised it and turned it into a romantic comedy.''
'Scottish Mussel' is Talulah Riley's directorial debut and was surprised by how it affected her:"I found the acting the hardest part, even though that's the thing I'm most used to. But every time I was in front of the camera I wanted to be behind the camera, so it was quite distressing."
'Scottish Mussel' premiered at the Edinburgh International Film Festival earlier this year and is out now in the UK.