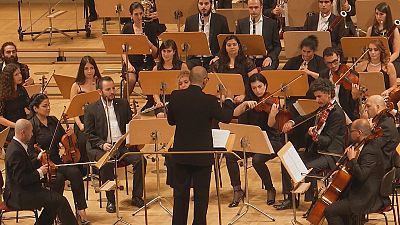 Soprano Rasha Rizk is one of Syria's best-known opera singers. Like millions of other Syrians, she fled war in her home country. She is among the tens of thousands of Syrians who have found a new life in Germany, where the Syrian Expat Philharmonic Orchestra was born last year.
All 65 members are classically-trained, most of them at the the Higher Institute of Music in Damascus.
"It would be great if we came as guests, as visitors representing our country and living in peace. But unfortunately, we came here as refugees because of the war," she says. "This is the negative side. But of course the positive side (is) that we are playing our music and we are representing the good side of Syria, the culture of Syria."
https://youtu.be/x9z_SGFUC9o
The orchestra's recent concert mixed classical European and Arabic music with Arabic folk music – a fusion which clearly appeals to audiences, as they performed at a sold-out concert in Berlin.
Their hope is to offer the public a better understand of their music and culture. "I feel that it's my responsibility as a musician to present our culture, our music, what we have in Syria, (and show) what we can do in Europe. We can be together in peace. So I think the best thing is through music," says flute payer Mohamad Fityan.
Most of the orchestra's members have settled in Germany. But some, like Rizk, who lives in Paris, cross borders for rehearsals and concerts. Conductor Ghassan Alaboud travelled all the way from Montreal.
"It's the nostalgia that unites us, more than anything," he says. "So we remember old stories, we remember things we've done, things we shouldn't have done. And yes, this is also very emotional. It's very emotional."
https://youtu.be/GNGbOT_pTN0
Since its creation a year ago, the Syrian Expat Philharmonic Orchestra has held concerts across Germany as well as in Switzerland and Sweden.
More than a million migrants entered Europe last year. Syrians were the largest single group.