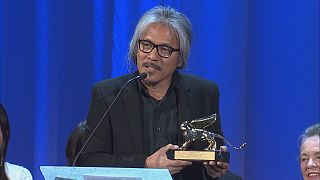 A jury headed by British film director Sam Mendes has awarded the Venice Film Festival's top prize to a black-and-white drama about revenge and forgiveness. The prize is a first for a Filipino film. Director Lav Diaz dedicated it to his people. "This is for my country, for the Filipino people, for our struggle, for the struggle of the humanity. Thank you so much," he said as he received the trophy.
Running nearly four hours long, 'The Woman Who Left' focuses on the struggle of a schoolteacher to reintegrate society after 30 years in prison for a murder she didn't commit. It is the prolific director's 19th film and his first major award from one of the 'Big Three' festivals that include Cannes, Venice and Berlin.
Unexpectedly, the Silver Lion for best director was split between two filmmakers: Russia's Andrei Konchalovsky for Holocaust drama 'Rai' ('Paradise') and Mexico's Amat Escalante for the disturbing 'La Región Salvaje' ('The Untamed').
Also shot in black-and-white, 'Paradise' follows the story of three people whose paths cross during World War Two: Olga, a Russian aristocratic and member of the French Resistance, Jules, a French collaborator, and German SS officer Helmut.
Escalante's fourth feature, 'The Untamed' has been described by critics as a disturbing and compelling cinematic UFOabout a sexually voracious space octopus.
The Silver Lion Grand Jury Prize went to 'Nocturnal Animals' by Tom Ford. The fashion designer's long-awaited follow-up to his debut feature 'A Single Man' (2009), 'Nocturnal Animals' is a melodrama starring Amy Adams as an art dealer and Jake Gyllenhaal as her ex-husband.
US actress Emma Stone won the Best Actress gong for her role in the Hollywood-set musical 'La La Land', in which she co-stars alongside Ryan Gosling, while Best Actor went to Argentinian Oscar Martinez in 'The Distinguished Citizen'.