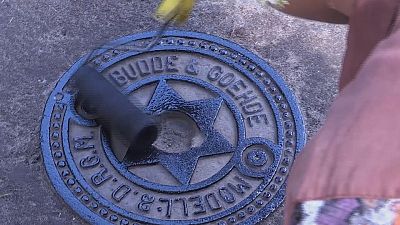 Berlin street art is alive and well and a team of artists known as Raubdruckerin. have come up with a unique way of creating textile pattens.
They paint manhole covers, grids etc then take a print to form the designs.
Emma France Raff works with the collective:"The point is that the prints are not drawn by me. I just put them into a new context. They are from surfaces of the streets, from cement surfaces and grids of manhole covers I transfer them to T-shirts and other things and they're given a new life. That's why it's called Raubdruck, because the designs are lifted from manhole covers. "
Emma France Raff uses them as a block from which she can make a perfect print. She applies paint directly to the raised surfaces of the drains to make the pattern.
In Berlin, printing t-shirts from manhole covers: Raubdruckerin — https://t.co/9FosAMOjELpic.twitter.com/agEY6xVoVS

— Gregory Sharpless (@gsharp1) August 23, 2016
Marcel Schlutt from the fashion magazine Kaltblut sees the work as urban innovation: "Using the city or what the city is offering is more urban than graffiti, because I am walking on the streets everyday, thousands of people do the same, and if she is using the railways to paint, it's really part of the city. It's not like an artist just comes around and paints something it's a piece of this city, its different I think, It is more urban."
Raubdruckerin – Pirate printing https://t.co/U9DRbHWYOE#designthinking#printpic.twitter.com/KAVytySUjQ

— Article Consultancy (@articlethinking) August 17, 2016
Emma France Raff sells her fashion online, but also in a small shop in East Berlin.
The clients are impressed: "I think its very original, and it gives a very nice effect not something you really expect to see on T-shirt, that's very cool."
Varietats: Street Art by Raubdruckerin https://t.co/NMVaAmJhCepic.twitter.com/LbBIFtwO8J

— Maria (@Sweeet83) August 2, 2016
Whenever the weather is good Emma France Raff goes around the city on her bike, with her printing kit searching for Berlin's indelible civic offerings.