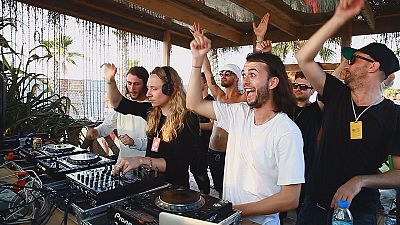 The Georgian Black Sea resort of Anaklia hosts the GEM Fest short for the 'Georgian Electronic Music Festival.' The festival is supported by the Georgian governement and is ongoing project
Some 30,000 heads got down to latest sounds and the revelers got happy:
"The people gathered here, look at them! The crowd, they are having fun, that's it! They just need music! Yeah. You just provide music. They are going to dance," roared one.
Another was attracted by the acts: "When I heard about the line-up I thought I have to go to this event because the craziest DJs are coming here!"
Grammy-winning Paul van Dyk headlined the GEM Fest backed by acclaimed electronic performers such as Paul Kalkbrenner, Fedde Le Grand and GusGus.
The hedonistic electronic hot spot is organised by Giorgi Sigua:"My friends and I we decided to create our Georgian brand of an electronic music festival but we wanted to make it very multicultural and multi-functional. Different styles of music, different activities, different styles blending together in one place, in the last village of Georgia."
Thx to everybody who came to GEM fest. Especially those, who came to our set at Aquapark stage despite the weather. pic.twitter.com/xmeGYffSZZ

— Louder Than Words (@ltwdjs) August 19, 2016
DJ's from all over Europe got up and performed at the Fest including the French act Lamine:"The people here react to the music in a positive way that makes me want to keep on playing non-stop."
And that includes individuals with broken limbs; "I am having a lot of fun, this is really the kind of festival we need here in the country. You know what: I have a broken arm, but never mind. The atmosphere is still great, the DJs really good and I am so enjoying my time here. "
The festival site backs onto Abkhazia a break-away region of Georgia, which won a war of secession in 1992-93 and formally declared independence in 1999.
Festival organises, in a gesture of friendship, offer free admission to Abkhazians, the festival also hosted a number of Iranians who danced the night away with Armenians and Azeris.
Euronews reporter Sebastian Saam got an invite to the party: "The organises have high hopes for the GEM Fest, they see a rival to Ibiza, but what is really special about this festival is that it creates a free space for enjoyment in a part of the world where such events are rare.''
GemFest 2017 თარიღები დაანონსდა#GEMfest#GEMFEST2017https://t.co/kyVusyIvSapic.twitter.com/dMtgP6UAEF

— Radio Atinati (@Atinati1059) August 22, 2016