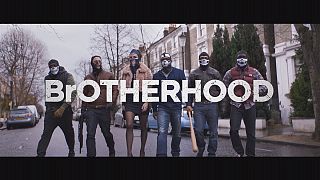 Noel Clarke has launched the last film in his London crime trilogy, 'Kidulthood,' and 'Adulthood' have been supplemented by 'Brotherhood.'
Noel Clarke the director,producer,actor and screenwriter wanted to deliver a memorable end to his catalogue of characters:"I think giving those characters a nice end to their story and, without giving it too much away you feel good. Without telling people what happens I think it was important and also letting people grow with the film, people that were 15 to 25 are now 25 to 35 and they can relate.They can relate because they've grown up with it and I think that's something we just don't see and it's really important."
Don't miss WWE</a> Superfan <a href="https://twitter.com/NoelClarke">NoelClarke in his brand new movie, BrOTHERHOOD, in cinemas TODAY! TheHoodMovies</a> <a href="https://twitter.com/hashtag/TheEnd?src=hash">#TheEnd</a> <a href="https://t.co/DntV7nkkZq">pic.twitter.com/DntV7nkkZq</a></p>&mdash; WWE UK (WWEUK) August 29, 2016
The film sees Clarke return as Sam, the west London gangster who was jailed for killing a man in the first film, then hunted down by the victim's family on his release in the second.
'Brotherhood' was shot in 20 days, Noel Clarke knows the value of a pound:
"We prepare 100 per cent. So everything was down, set, ready to go beforehand and we were problem solvers. So if we get there to a place and it's not they way we wanted we sort it out, we deal with it and that was the way we operated. We shot a lot of slates. I got the coverage I needed and when I was happy with a scene I'm like, 'Right, let's move' and that's kind of what we did. So it's one of those things where almost the very thing that was kind of holding us back years ago when we were forced to make low-budget films, it's made us good at it. So if we make a low-budget film, we know what we're doing, we know where to put the money."
I wrote this on why NoelClarke</a>&#39;s &#39;hood&#39; trilogy was so important for so many young British kids <a href="https://t.co/OBDYOPGYPD">https://t.co/OBDYOPGYPD</a></p>&mdash; Ιman | ايمان (ImaniAmrani) August 27, 2016
'Brotherhood' is out now across the UK.