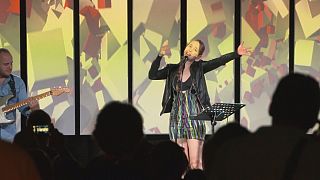 Veronika Harcsa is one of the most popular singers in Hungary, especially among jazz aficionados. At the ten-day Valley of Arts Festival in Kapolcs, Hungary, Veronika has her own stage this year – we caught up with her there.
The most important thing to me is the spontaneity on stage

Singer
Veronika Harcsa
"Originally I learned jazz singing, but I prefer calling myself just a 'singer' because I am interested in a lot of types of music not only jazz. The most important thing to me is the spontaneity on stage, sharing improvisation, diving into the shared moments with my musical partners, reacting to their ideas and changing those ideas together."
Her repertoire spans jazz, electro, pop and alternative music, and these days she is also invited to sing classical music. She is not just a singer but also a formidable songwriter.
Harcsa Veronika – Too Early https://t.co/YIcCQDZOSc vía YouTube</a></p>&mdash; GUILLERMO CRESPO (CrespNejustan) August 6, 2016
Her career started in 2005 when she recorded her debut album 'Speak Low' with her jazz quartet.
àよい女声ジャズはっけん – ♫#SoundHound から、Veronika HarcsaのSpeak Low https://t.co/i26IGUsDQi

— もえ (@m2o2e7) July 20, 2016
She was then 23 years old and rose to fame rapidly. In 2009 Harcsa's 'You Don't Know It's You' was nominated and won the 'Best Jazz Record' category at the Fonogram Awards. But she wanted to keep learning so in 2012, aged 30, she decided to study for an MA at the Royal Brussels Conservatory. She claims it was the best decision she ever made.
Veronika Harcsa
"When I was 30, I met masters from whom I could learn a lot at that particular time, in that particular life situation. Moreover nobody knew me over there, I wasn't popular there and I didn't have any radio hits so I had to show all the other students who I am from zero. It was a fresh start and a very big lesson to me."
This lesson helped her employ the full tonal range of her voice, so nowadays she is more brave and daring when it comes to improvisation.
Veronika Harcsa
"I am still working on singing on stage with my most natural personality. For me, it is very important to be able to go crazy on stage. And I encourage our audiences to dare to go crazy too. Because we need a little bit of madness in this world. And I don't mean that in a pejorative way of course, but we have to amaze ourselves sometimes. We have to find a way to feel free and for this, going crazy is a very good method that I like to practise."
Nowadays Veronika is focusing more on her electro band, Bin-Jip, and her duo with guitarist Bálint Gyémánt, with whom she will release a new album entitled 'Tell Her' this autumn. Veronika is now based in London and all the commuting to Budapest can be tough.
Gostei de um vídeo YouTube</a> <a href="https://t.co/LwL0SrHxaV">https://t.co/LwL0SrHxaV</a>! 2015 - Veronika Harcsa & Bálint Gyémánt</p>&mdash; Antonio Paes ilustra (antoniopaess) August 18, 2016