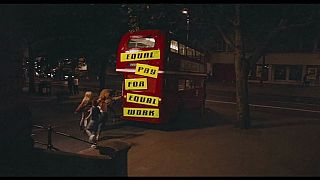 20 years on, artists have teamed up to remake the video for the Spice Girls' debut track, "Wannabe".
This time around, "Girl power" – is promoted by highlighting a series of U.N. global goals for women and girls.
Lire: [Publicité] Ad That We Like: TheGlobalGoals</a> – World // <a href="https://twitter.com/hashtag/WhatIReallyReallyWant?src=hash">#WhatIReallyReallyWant</a> <a href="https://twitter.com/hashtag/ATWL?src=hash">#ATWL</a> <a href="https://t.co/Cmm5UzQgZv">https://t.co/Cmm5UzQgZv</a> <a href="https://t.co/SpndxP5iDp">pic.twitter.com/SpndxP5iDp</a></p>&mdash; NSB Paris (NSBParis) July 27, 2016
"#WhatIReallyReallyWant," features Bollywood actress Jacqueline Fernandez and well known artists from Nigeria, South Africa, the USA and Canada.
Spice Girls' Wannabe video remade by MJ Delaney for women's rights #WhatIReallyReallyWanthttps://t.co/7G9q0JDVxo

— Blackdog (@BDogCreative) July 21, 2016
The video is directed by young British filmmaker, MJ Delaney who talked about her motivations and hopes for the film:
"I wanted to make this film because I care deeply about the messages within it. I always jump at the opportunity to make something that's in keeping with my political views and issues that I think are important in the world and to make a film that will make a difference, which I hope this will. I also am a huge Spice Girls fan and I was 9-years-old when 'Wannabe' came about and fell in love with them and discovered girl power. So, it was sort of a perfect combination for me and a little bit of a dream job."
Backed by Project Everyone , an organisation which aims to eradicate poverty, and SAWA , the global cinema advertising association. "#WhatIReallyReallyWant," will be shown in cinemas around the world.