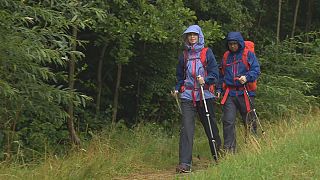 Outdoor activities appeal more than ever. And one the most popular ones is hiking.
In Germany alone this market is worth 13 billion euros, with about 60% of the population claiming to be occasional or regular hikers.
The industry is responding to this with highly functional, lightweight and intelligent materials but also sophisticated cuts as could be seen at the recent OutDoor 2016 in Friedrichshafen.
The expo boasted 960 exhibitors from 40 countries, and was host to 21.000 visitors.
There was something for everyone with exhibitors showing off clothing, accessories and gadgets for activities such as climbing, trail running, canoeing, cycling, paragliding, bouldering, camping, backpacking, travelling and even the daily commute to work.
The figures for participants are staggering according to Ralf Stefan Beppler, Outdoor expert: "In Germany, according to different estimates, we talk about 40 to 50, maybe even 60 million hikers, who regularly go for a hike, or claim to do so. This is of course a market that cannot be ignored or overlooked.
"Hiking gear needs to be vamped up a little bit, with colours but also with shapes. We have jackets and pants that are more fitted, figure-hugging without constricting. And have at least a more fashionable look, with more attractive colours, this is very important."
Outdoor clothing makers, who have been criticised for using toxic or unethical products, are trying to improve their image with more sustainable ingredients such as the "Vaude Pillow"made of recycled coffee grounds.
It not only has a natural antibacterial effect, but dries very quickly and weighs just 100g.
Langbrett had shoes made from old car tires.
The LifeStraw, from US-company Vestergaard, is a water filter that captures 99,9% of the bacteria and other elements in the water.
And instead of feathers, why not use natural fiber, such as those found in the dried fruits of kapok trees, to fill your down jacket?
According to Arne Strate, Head of Marketing and Communications, at the European Outdoor Group: "People now just want to be sure that their clothes are made properly. If we develop this further, it is a trend that is sustainable, and beneficial for everyone involved."
Other attractions included the superlight trail running shoe, that weighs under 300 grams and gives dynamic performance on rugged trails.
The Gigseat, made of durable, but soft and flexible thermoplastic, allows you to have a seat on top of every mountain.
Lightweight hammocks are also trendy. Amazonas displayed a model that is breathable and can contain your camping mat for more comfort . And it only weights one pound.
Australian firm Sea To Summit went one better with a model that weights a measly 140g and fits into a tiny pocket.
Last but not least: there was the foldable canoe by Belgian inventor Otto Van De Steene, which takes 10 minutes to fold up.