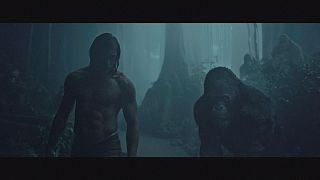 All eyes were on Alexander Skarsgård as the action adventure film The Legend of Tarzan held its world premier in Los Angeles this week.
The film kicks off with the hero living an aristocratic life with wife Jane in London – years after he has left the jungle, where he was raised by apes.
But Tarzan is called back to his former home in the Congo to investigate the suspicious activities at a mining facility – unaware that he is the pawn in a deadly game of greed and revenge.
Skarsgard talked about the public's fascination with this legendary character: "People have been fascinated by Tarzan for over a hundred years for a reason and I think that reason is the noble savage, the idea of returning to the wild is quite intriguing and alluring to people."
The films stars also Christoph Waltz as corrupt merciless Belgian captain Léon Rom.
Jane is played by Margot Robbie, but the actress insists her character is in no way a damsel in distress: "I think she's just always actively seeking a way to problem solve and find her way out of a situation she is in, and she's a very defiant.
On July 1, the legend returns. Watch the action-packed new video for The #LegendOfTarzan. https://t.co/DHvQF1i9k7https://t.co/bZ5bxs8AdB

— #LegendOfTarzan (@legendoftarzan) 19 June 2016
"She's held captive but she's not really taking it so well, and she's actively finding her way out of the situation rather than waiting for her husband to save her."
The film also stars Samuel L Jackson and is by Dangerous Liaisons and Harry Potter director David Yates.
The Legend of Tarzan opens worldwide from the beginning of July.
Our Tarzan and Jane together on the on the #LegendOfTarzan red carpet! pic.twitter.com/ugwoQ1h1Dj

— #LegendOfTarzan (@legendoftarzan) 28 June 2016