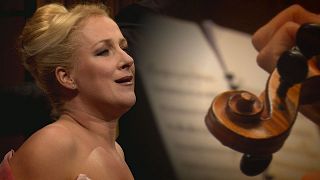 The tragic story of Donizetti's Lucia di Lammermoor, recently performed at the Champs-Elysées Theatre in Paris, was a triumph for its interpreters Diana Damrau and the whole cast.
Those treasures we were left by the composers, they are our heritage, we have to celebrate them, because these are eternal gifts.
To movingly embody Lucia, the unfortunate heroine, there could almost be only one choice as Diana Damrau is considered one of the greatest sopranos coloratura of our times.
"Lucia is a 'stuntman role' for a soprano. The 'tessitura', the range, is very high. Also, for each Lucia the character changes because this is a Bel Canto opera, which means that each soprano is encouraged to show off the bravura in her voice," says Damrau.
Turin's Teatro Regio Orchestra, in smashing shape, was conducted by Gianandrea Noseda. Passionately.
"Maestro Noseda has drama in himself, he's such an excellent musician…and, also, he's demanding… but through dialogue, which is great because this way we can create together! He also gives us a lot of energy, and this helps inspiration, and music, and it's… it's so exciting!" says Damrau.
"The madness scene…Donizetti was familiar with madness. He really offers the singer so many opportunities to show a mind going crazy. It's such an opportunity for us. There's also an element of improvisation, which I love, and everyone wants to contribute to the atmosphere of the madness scene, and the singer is really free to do whatever she fancies!"
However the role demands more than just madness.
"I think I've got a lot of love to give, that's also why I chose this profession: to touch people through singing, through my voice, and also, those treasures we were left by the composers, they are our heritage, we have to celebrate them, because these are eternal gifts, and they will touch people's hearts for the next centuries to come!"