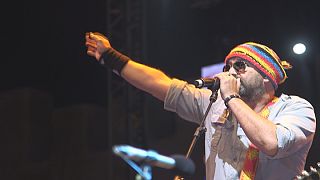 Formed during the late 90s in Casablanca, ""Hoba Hoba Spirit"":http://www.hobahobaspirit.com/ is undoubtedly one of Morocco's most successful bands. Their musical style, which mixes Rock, Reggae and Gnawa, attracts fans of all ages although their powerful lyrics are said to be particularly influencing the younger generation facing everyday challenges in North Africa.
"Why should we deprive ourselves of such a powerful weapon," explains lead singer Réda Allali. "Imagine getting into a fight with someone. It's either you or him but you have a gun. The gun we possess is the Moroccan rhythm and if we decide to shoot, we can tear down any stage and get people jumping out of their seat. Oh and if you're wondering why we play this kind of music, it's because this is what we would dance to if we were in the audience. We actually love what we do and I feel like this music runs through my veins."
Although "Hoba Hoba Spirit" has cultivated a loyal fan base throughout the years, its band members don't earn enough from their recordings to live on.
In Morocco, many artists suggest that the agency responsible for issuing royalties doesn't protect their rights — even when their music is broadcast on national television and radio.
Session live avec Hoba Hoba Spirit à #Essaouirahttps://t.co/V4rnsuZvXUpic.twitter.com/dBXat5EvT2

— Wajdi

BEN

MARZOUK

(@wajdibenmarzouk) 30 May 2016