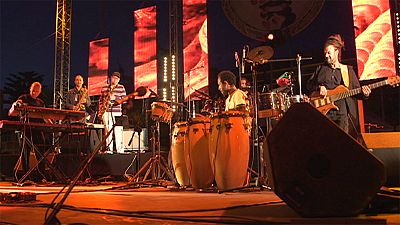 Reggae music may not automatically come to mind when one thinks of Switzerland.
Perhaps it's reggae that found me.
But the musician known as Jaba, who lives in the French speaking area of the country, has been making Jamaican inspired sounds for over two decades.
Jaba frontlined reggae band Moonraisers until 2011. After a three-year hiatus, he formed Jaba & Friends. Based on a solid reggae foundation, the project introduces other elements such as the Australian didgeridoo.
He spoke about his inspirations at the Gnaoua World Music Festival in Morocco.
Jaba: "I listened to Bob Marley from aged 10 to 16, I have played steel drum, I've been to the Caribbean, so it's a natural thing. Perhaps it's reggae that found me, I don't know.
"I am a bass percussionist so for me it's the different rhythms to explore and exploit the reggae. It's important for us to try to create a sound by being true to reggae."
In bands since the age of ten, Jaba no longer wants to be the frontman. While he's still the lead singer, he prefers to remain behind his drums.
Though he is a strong believer in reggae music Jaba does not consider himself to be rastafarian, based on the religious Abrahamic belief which developed in Jamaica in the 1930s.
Jaba: "Reggae and rasta for me is not quite the same thing. Reggae is music that can carry a message; rastafari is rather a culture, a way of life. I am more on the reggae side but, of course, I put a lot of importance in the words … to make people think, that is what is important for me."
The aim of Jaba & Friends is purely artistic. They rely on fan feedback as well as direct support and donations, saying they prefer to "bypass the established trappings of commercial exploitation".
The group will have an online live event in October of this year.
Jaba & Friends is Armando Ribeiro on bass, didgeridoo and percussions, Thomas Chaillan and Gilbert Novelli on guitar, Claude-Alain Biedermann on keyboard, Hicham Laïmina on percussions, Yann Altermath on sax, Gil Shwab on clarinet and sax and Amandine Rapin and Kevin Kika in the chorus.
Facebook: Jaba & Friends
Twitter:Jaba & Friends