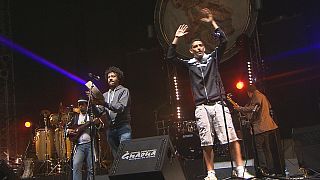 Nabil Sakhra and Mohammed Laâbidi, a.k.a. Oubize are the lead singers of Darga, a band from Casablanca, part of Morocco's emerging musical talent.
Darga recently performed at the Gnaoua Music Festival in Essaouira, a four-day event celebrating the mesmerizing Gnaoua rythms, a rich repertoire of ancient African Islamic spiritual songs and rhythms.
The classically-trained band are part of an up-and-coming World Music movement from the Maghreb region.
"We have several musical influences, including reggae and rock. Our music is based on our own heritage and we try to mix different styles, especially now that we have two extra musicians from Sub-Saharan Africa, it gives us an added groove, which is more African than Western," says Nabil Sakhra.
With their mix of different musical styles, they have conquered the hearts of fans young and old. The band's name Darga can be translated as cactus, and its members say that their committed lyrics can indeed be prickly at times: "We sing in Moroccan to a Moroccan public, and that way, we always get through to them," says Mohammed.
"They can identify to our songs because we are trying to denounce what's wrong, sometimes with irony, sometimes seriously. It depends on the title of the song, it depends on what's happening in the news, it depends on many things," adds Nabil.
Today, Casablanca has become one of Morocco's most creative hubs, with the advent of annual festivals like Gnawa and the 'Boulevard des Jeunes Musiciens' – a springboard for fresh talent, like Darga and many others.