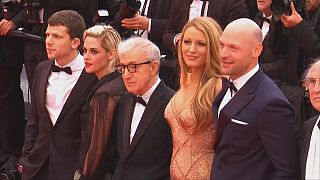 The 69th Cannes Film Festival has opened amid stormy skies, heightened security and the premiere of a new Woody Allen film, 'Cafe Society' starring Jesse Eisenberg and Kristen Stewart.
Just minutes before the red carpet Allen's son, Ronan Farrow questioned the festival and media's continued embrace of the 80-year-old director despite persisting allegations of sexual abuse by his sister Dylan.
'Cafe Society' is a romantic tale of 1930s Hollywood that has all the ingredients of an Allen movie – it is jazzy, witty, and well-acted thanks to the support of Steve Carrel, Blake Lively and Parker Posey.
The renewed Farrow allegations, cannily published in Hollywood to coincide with the Cannes news conference, could have prompted a flood of questions. Instead, Allan talked about his movie and why he likes to open in Cannes but has always refused to be part of the competition.
"I don't believe in competition for artistic things. Competition is great in sports, where that's the object of it but you make a film, the jury will award a film they will say was the best film and I may find it the most boring film at Cannes. Someone else finds my film boring, someone else loves it. It is all very subjective," he said.
Café Society brings Kristen Stewart and Jesse Eisenberg together on screen for the third time, after 2009's 'Adventureland' and last year's underrated 'American Ultra'.
Since 'Twilight' made her famous, Kristen Stewart has embraced a wide variety of different characters – and starring in 'Cafe Society' was no exception. She talked of her experience starring in a Woody Allen movie:
"In this case I approached it in a way that I luckily abandoned almost immediately once we started filming, but at first I thought I was going to have to learn every single line perfectly and we were going to… You know, he doesn't rehearse or anything like that but I felt that I needed to prepare. And I'm really bad at that, and it didn't really work out," she says.
Allen says his 49th film will not be his last, but he has certainly not heard the last of the alleged sex scandal which the Farrows may ensure will dog him for the rest of his days.
Allen has previously denied that he molested Dylan, allegations first levelled in 1992 when Dylan was seven and Allen and actress Mia Farrow were in the midst of a bitter divorce.