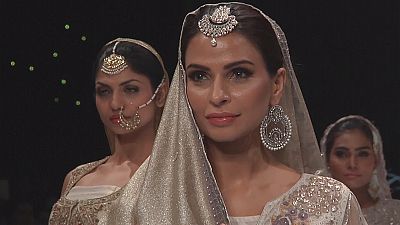 Clothing and accessories label 'Gulabo' showed off its new collection on the opening day of Fashion Pakistan Week in Karachi.
Founded in 2005 by the doyenne of Pakistani fashion Maheen Khan, Gulabo is now one of the country's leading brands. The designer said she was inspired by the vibrant city of Karachi for her collection.
"It is a Pakistani brand, yes, but it's a Karachi brand, because the people of Karachi are eager and open to new ideas, to blending cultures. So it's a different feeling here and we are more casual here. So my Gulabo brand is casual: it's easy, it's breezy, it's hip, it's hop and it's lovely," said Khan backstage.
Gulabopk</a> <a href="https://twitter.com/Maheenkhanpk">Maheenkhanpkhabib_areeba</a> <a href="https://twitter.com/ayeshaomar20">ayeshaomar20#FPW16#Day1#FashionPakistan#fhmpakistan#Gulabo#MaheenKhanpic.twitter.com/1lFijTh1qb

—

FHM

Pakistan (@pakistan_fhm) 8 avril 2016
A graduate of Karachi's famous Indus Valley School of Art and Architecture, Wardha Saleem is known for her colourful, youthful and vibrant creations. This collection borrowed heavily from Pakistan's cultural heritage, especially the Kurta – a traditional upper garment for men and women.
FPW Day1: Gulabo, Wardha Saleem make up for a late start and repeat collections https://t.co/2R093MsqJvpic.twitter.com/LCh5nB5tZq

— Images (@dawn_images) 8 avril 2016
"We sell a lot of kurtas that people pair and style differently. And I do a lot of jackets and skirts, and trousers and different pants, and drape tops that you can mix and match and pair. So I think it's very relevant for the Pakistani market and we have included and designed more pieces to fit into the taste of Pakistan," said the designer of her new collection.
Bridal wear is also an important market segment in Pakistan and Lahore-based brand Kayseria proposed its luxury prêt-à-porter collection of vintage bridal gowns made of pastel silk prints and embroideries.
Kayseria Luxury Pret collection for #FPW16! So pretty and traditional! pic.twitter.com/1FIMxYhodC

— Sesh♡ (@Oh_My_Mascara) 7 avril 2016
Featuring over a dozen designers, Fashion Pakistan Week offers a platform for both established labels and newcomers to show off their latest creations.