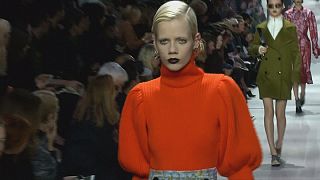 Issey Miyake designer Yoshiyuki Miyamae was on a mission to travel to the beyond with his latest collection in Paris.
His goal, he said, was "to pursue as yet unseen and unknown beauty created from A Piece of Cloth", using computer technology developed by the Japanese label to create clothing from a single piece of material. The technique, called "3D Steam Stretch", uses steam to shrink clothes in the oven. The result was an other-wordly and harmonious collection of colourful garments that created optical illusions with harmonious winding pleats.
In the historic heart of Paris' Louvre Museum, fashion giant Dior set out to redefine the classic Parisian silhouette to an audience of A-list stars.
The brand's Autumn-Winter collection was centred around crisp, dark silhouettes, designed to embody the modern Parisian with a rebellious streak. Bold colours were splashed on clean shapes and many of the models wore sunglasses giving the collection a wearable vibe that belied its skyscraper heels. Accessories included multi-clip earrings and handbags made from exotic leather like crocodile, ostrich and lizard.
Karl Lagerfeld's spectacular sets are Fashion Week legend but this time round the Chanel creative director opted for a paired-down dressing room feel, featuring cream carpets and walls of mirrors.
Guests all had front row seats along the lengthy catwalk to get a chance to enjoy the collection, which banished impractical footwear in favour of flat riding boots. Hats were back with models sporting padded boaters in everything from black to bright colours. And as has become the custom, Lagerfeld wrapped up the show in the company of his godson, the son of Chanel muse Brad Kroenig.
For her Paris show, Iris van Herpen placed models behind large distorting screens inviting guests to experience an ever-changing reality.
A hi-tech fan, the Dutch designer uses 3D printing in her collections, combining intricate designs with soft textures to create shimmering, ghostly silhouettes, enhanced by ice-skating-like heeled sandals.