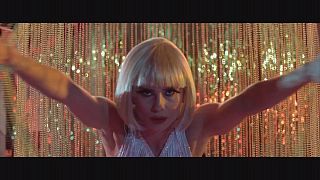 Forget about werewolves. Vampires are so last century and so are zombies. But mermaids are definitely 2016.
That's according to young Polish director Agnieszka Smoczynska, whose horror movie 'The Lure' picked up Best Film, Best Director and Best Special Effects at this year's Fantasporto film festival.
The tale of two young mermaids who end up in a night club in 1980's Warsaw, 'The Lure' already made splashes in Sundance where it won a top World Cinema prize.
"We killed The Little Mermaid and we created a new modern mermaid," Smoczynska told euronews. "That's what we wanted to do. That's why our mermaids are beautiful above, they are beautiful young girls, and their fishtails are huge, very ugly fishtails because when you read (Hans Christian) Andersen and when you watch Disney, you can see a mermaid with a beautiful body, wearing a bra and with a very sexy fishtail. Our mermaid is half a beautiful girl and half a monster. A beautiful monster."
Now in its 36th year, the Fantasporto international film festival has been promoting fantasy, science fiction and horror films as well as experimental projects from around the world since it started in 1981.
The president of this year's jury was Dutch director Ate de Jong: "The nicest thing was, of course, you see a lot of films that you would otherwise never see. I didn't like all the films, but I liked something about every film and sometimes it was just an element, but it was always something special, so I think they made a very good choice as a festival."
'Queen of Spades: The Black Rite' by Russian director Svyatoslav Pogdayevskiy, a classic demonic possession horror story, won the special jury prize.
Another big winner was 'Chasuke's journey' – which recently screened at the Berlinale – by Japanese director Sabu, who picked up the top prize at Fantasporto two years ago with 'Miss Zombie'. The film won Best Screenplay and Best Actor for Ken'ichi Matsuyama.
Also from Japan, zombie apocalypse comedy 'I am a hero' by Shinsuke Sato, won the joint Audience Award along with Sweden's 'Sensoria', as well as the Jury Prize in the Orient Express section.
"Horror films are still what Fantasporto is best known for, even if the festival has been offering much more than that for a number of years now. For this edition, one of the highlights was the tribute paid to a man considered by many to be the greatest Macedonian film director today, Milcho Manchevski," said euronews correspondent Ricardo Figueira.
Best known for his 1994 film 'Before the Rain' which won the Golden Lion in Venice, the New York-based director was handed a Lifetime Achievement Award. According to him, geography is not important in cinema: "There are good films and bad films. As long as the good films get recognition, I don't care where they come from. I don't even care who made the films, because they exist on their own, as tiny little stars, something beautiful out there in space," he said.
Set during the Balkans war, 'Before the rain' is a story of love and war about a Macedonian photographer who wins the Pulitzer prize but is deeply affected by the horrors he saw in Bosnia. After winning in Venice, the film went on to be nominated for Best Foreign Language Film at the Oscars (1995).