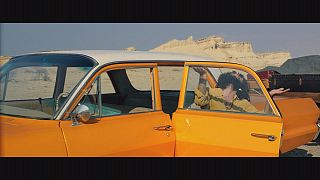 Impossible to fit into a single category, 'A Dragon Arrives!' by Iranian director Mani Haghighi is a mix of cinematic genres that takes viewers on an entertaining and thought-provoking journey.
A detective story set in 1960s Iran, the film is infused with counter-culture references and magical realism, combining the Westernised cool of Iran's pre-Revolution intelligentsia and the climate of fear and paranoia engendered by the Shah's repressive regime.
Haghighi's fifth feature movie, 'A Dragon Arrives' had its world premiere in Berlin as the competition's closing film. The Iranian director had already made a name for himself at the 2006 Berlinale with his absurdist comedy 'Men at Work' and his more recent tragicomedy 'Modest Reception' (2012).
He talked to euronews about his latest offering: "It's a genre-bending film, so there is some Philippe Marlow, there is some Jule Vernes, there is Tintin, there are Western films, there is film noir. And it's sort of an experiment to see what happens when you put all these genres together and make references to all of them."
Given the movie's surrealist style and sense of humour, we asked the director about his sources of inspiration.
"(Samuel) Beckett, (Eugène) Ionesco, (Harold) Pinter have been great influences on this film, for sure," he told euronews reporter Wolfgang Spindler. "The idea of searching for something that is not there, waiting for it to show its head."
Constantly shifting between possible truth and fiction, the film also marks a very personal approach to Iranian history: "Yeah, I mean the fact that you remember stuff from before the revolution, I mean, I am not very old but as a middle-aged person, when you have lived this long, you can sort of think about the notions that you held to be true or important to you and you have lived long enough to realise that they are not as true or as important as you thought, then you end up making a film like this," said Haghighi.
Iranian films historically play well in Berlin. This edition featured four Iranian productions and it was Jafar Panahi's 'Taxi' that won the Golden Bear last year. The film was screened at the festival despite Tehran's ban on Panahi, who was not able to travel to Berlin to pick up his award. The director was banned from making films and sentenced to jail in 2010 for making propaganda against the system.
Euronews asked Haghighi what it is like for Iranian filmmakers trying to make movies today.
"It is very complicated, it's a very complex situation," he said. "It's a maze, a labyrinth that you have to find your way out of, but there is a way out, and if you are lucky and if you are smart then you can always find that way."
On the dangers of self censorship, Haghighi told euronews reporter Wolfgang Spindler: "Yes, there is always that, that's the biggest enemy, I think. Iranian film censors are people you can actually negotiate with if you want to negotiate with them, if you choose to do that, there is always room for that – there is some flexibility maybe in that area, but self censorship… you can't negotiate with yourself and you have to be really tough with yourself and I try to be that. I think I have succeeded in this case."
The title's dragon also features in the movie. It has the power to make men talk in foreign tongues – a metaphor, perhaps, for the movie itself which certainly speaks a myriad of cinematic languages.
Distribution rights for 'A Dragon Arrives!' have already been sold to Italy and further deals are expected.