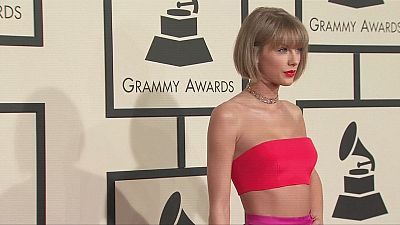 Stars from the world of popular music dressed up in LA for the 58th Grammy Awards.
Grammy Cam Will Broadcast Live Video From Award Statue Itself During Ceremony #GRAMMYs#1001sd#1001newspic.twitter.com/V3D0SMU6MG

— 100.1 Santo Domingo (@1001SD) February 16, 2016
The night's top award, Album of the Year, went to Taylor Swift for '1989.'
She becomes the first female artist to win the best album prize twice.
Taylor Swift's Bombastic 'Out Of The Woods' Grammy Opener Even Had Adele Singing Along https://t.co/oMygZrJXCjpic.twitter.com/IY41f3WRD8

—

MTV

News (@MTVNews) February 16, 2016
R&B singer Bruno Mars and producer Mark Ronson won the prestigious Record of Year as well as the Best Pop Group/Duo for 'Uptown Funk' an international global hit in 2015.
Congrats to Mark Ronson and Bruno Mars for winning the Grammy for Record of the Year! https://t.co/88gif0dYhopic.twitter.com/WtElmErFbP

—

MTV

News (@MTVNews) February 16, 2016
British star Ed Sheeran won his first Grammy for 'Thinking Out Loud' as well as picking up the Golden Gramophone.
Ed Sheeran, Taylor Swift & Selena Gomez at the Grammy show! -N pic.twitter.com/Id5Gh001tT

— Ed Sheeran Updates (@Ed_Sheeran_EU) February 16, 2016
Kendrick Lamar won five awards including Best Rap Album of the Year for 'To Pimp a Butterfly.'
Kendrick Lamar just gave a powerful performance of his Grammy award winning "Alright" at the #GRAMMYs. pic.twitter.com/e2XfeiwOeO

— Music News & Facts (@musicnews_facts) February 16, 2016
The Best New Artist of The Year Award went to Meghan Trainor.
.Meghan_Trainor</a> gave a tearful acceptance when receiving the GRAMMY Award for Best New Artist <a href="https://t.co/7Y5J6CSO9a">pic.twitter.com/7Y5J6CSO9a</a></p>&mdash; STAPLES Center (STAPLESCenter) February 16, 2016
Lady Gaga ended proceedings with a tribute to the late, great David Bowie.
Lady Gaga pays tribute to David Bowie at the Grammys!#LadyGagaGrammy#GRAMMYs#MusicMondayhttps://t.co/QdqnYHblbfpic.twitter.com/QqdU2a4rjE

— Josh Maxwell (@joshmaxwell1996) February 16, 2016
#LadyGagaGrammy lacrou!!! Só falta o Oscar dia 28 e um álbum pop. Miga sua loka, vc salvou i Grammy! pic.twitter.com/8CUroDYDAE

— Tatiara de França  (@tatiaradefranca) February 16, 2016