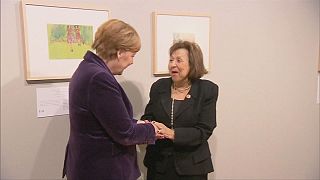 The biggest exhibition of Holocaust art outside Israel was opened in Berlin by German Chancellor Angela Merkel.
The artwork is by survivors and victims like the water colour paintings by Nelly Toll. She was just six years old when she had to hide in a tiny room in the house of a Polish family.
Now aged 80 and living in the US where she moved after the war she remembers how her art helped her when in hiding.
"It's a wonderful experience for the future generations to learn from it. And my are probably was in a way like an art therapy. It saved me from any atrocities. And that kept me very occupied because we were sitting in that room and you couldn't go outside. This kept me busy and I called them my "water colour friends"," she said.
The 100 works on display were selected from some 6,000 which were produced during the Holocaust. Thy are now kept at Yad Vashem, Israel's official Holocaust memorial centre. It took long negotiations to show these works in Berlin.
"Berlin is the right place because it started in Berlin and this was the centre, and still the ideology is hovering somewhere. And the German society and sate has a deep, deep commitment and responsibility for the future so we thought that this kind of message of human values should be presented first in Berlin," explained Avner Shalev Chairman of the Yad Vashem Directorate.
The German Chancellor, Angela Merkel emphasized the need to remain conscious of the atrocities of the past.
"The artworks shown here warn us, each picture in its own way to always remember what happened, to always think of the victims and to make every effort to ensure it never happens again," the chancellor told an audience at the opening of the exhibition.
#HMD2016: Angela #Merkel Opens Holocaust Art Exhibit in Berlin. https://t.co/87jalnlbYC

—

ISCA

(@ISCAorg) January 25, 2016
The exhibition "Art From the Holocaust" runs until April 3 at Berlin's German Historical Museum.