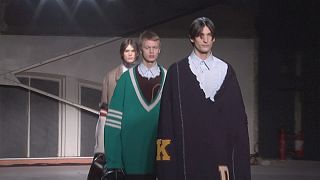 Temperatures dipping as low as -10 degrees Celsius in Berlin didn't stop fashionistas from attending the major biannual fashion event in the German capital.
Under the motto 'Great Britain', Austrian designer Lena Hoschek Autumn-Winter collection was elegant and feminine, featuring a combination of tweed, wool, knits and rose patterns. A Central Saint Martins graduate, Hoschek started out with iconic designer Vivienne Westwood before founding her own label a decade ago.
Serbian-born designer Saša Kovačević presented his menswear label Sadak in a variety of prints and colours, although he did tone down his often wild colour palette for this collection. Camouflage was very present as were tribal beadings worked into face coverings and waists. There were also sarong-like drapings and Islamic-influenced illustrations on long shirts and overskirts.
At Marc Cain, one of Germany's major fashion brands, models hit the catwalk decked out in soft pinks and even softer furry textures. Flashes of florals and scarlet were set off by more muted neutrals and tweed in this collection entitled 'Velvet Affairs'. A burst of fun floral cocktail dresses rounded off this ultra-feminine collection by the brand's designer Karin Veit.
Meanwhile in the French capital men's fashion has gone supersized. At a Paris gym fitted out like a labyrinth, Raf Simons presented his striking collection that mixed preppy nostalgia with urban modernity. To a soundtrack from David Lynch's Twin Peaks, the models wore super-baggy trousers with oversized V-neck college sweaters, the sleeves sticking out from under big wool coats. Even more oversized than the sweaters were the colorful puffy coats, so voluminous they looked like Christmas trees.
And Paris' Palais de Tokyo hosted Japanese fashion house Issey Miyake's Autumn-Winter menswear collection. Designer Yusuke Takahashi recreated the Mongolian grasslands as a backdrop for the label's new looks. It featured knitwear items, including mohair-blend sweaters with abstract patterns in orange, gray and blue.
The Japanese designer will be holding his first major retrospective from March to June at the National Art Center in Tokyo, casting a look back at his 45 year-long career.