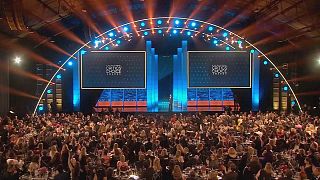 Tom McCarthy's journalism drama 'Spotlight' topped the 21st Annual Critics' Choice Awards winning Best Film, Best Ensemble and Best Original Screenplay.
"The journalists that we represented in this movie, they were phenomenal and also the survivors of all the injustice that took place all around the world. Thank you so much," said the film's producer Steve Golin, picking up the award.
Directed by Tom McCarthy, the film follows The Boston Globe's 'Spotlight' team, the oldest newspaper investigative unit in the US, as it looks into widespread child sex abuse by Catholic priests. The film has received six Oscar nominations including Best Picture.
Leonardo DiCaprio, who couldn't attend the ceremony as he was promoting the film in Europe, won Best Actor for his role in Alejandro Iñárritu's pioneer-era drama 'The Revenant'. His performance has also earned DiCaprio a Golden Globe and a sixth Oscar nomination for Best Actor.
Brie Larson won Best Actress for her role in Lenny Abrahamson's drama 'Room'. Following a Golden Globe win in the same category, chances are the young actress could also pick up and Oscar for her role as a young mother forced to raise her son in captivity.
Larson's co-star, nine-year-old Jacob Tremblay, picked up the Critics' Choice Award for Best Young Actor.
In the supporting actor category, 69-year old Sylvester Stallone picked up the gong as Rocky Balboa in 'Creed'. His performance has earned him critical acclaim, his first Golden Globe Award and his third Academy Award nomination. The actor has already confirmed a sequel is underway although it's uncertain whether Ryan Coogler, whom many credit with the movie's success, will be back in the director's seat.
Tom Hooper's 'The Danish Girl' starring last year's Oscar laureate Eddie Redmayne earned Swedish actress Alicia Vikander the Best Supporting Actress award. Loosely inspired by the lives of Danish artists Lili Elbe and Gerda Wegener, it tells the story of the couple's marriage as they navigate Lili's journey as a transgender pioneer.
Adam McKay's 'The Big Short' won Best Comedy, Best Adapted Screenplay and Best Comedy Actor for Christian Bale. The drama is nominated for five Oscars including Best Picture.
Starring Bale, Ryan Gosling, Brad Pitt and Steve Carell, the film takes a quirky look at the mortgage-backed security debacle that led the US and the rest of the world into recession.
And finally, 'Mad Max: Fury Road', the fourth chapter in the franchise, swept nine categories at the Critics' Choice awards, including Best Director for George Miller, Best Actor and Actress in an Action Movie for Tom Hardy and Charlize Theron, as well as a handful of technical awards. The film is up for 10 Oscars including Best Picture.