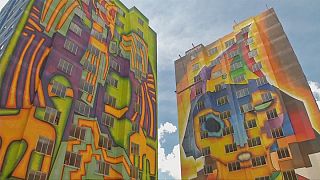 Celebrated Bolivian artist Roberto Mamani Mamani is on a mission to paint his way into the Guinness Book of Records.
He and his team of 40 painters are covering huge apartment blocks in vibrant and vivid imagery.
The project in the mountainous city of El Alto spans seven 12-story buildings, covering more than 2000 square metres.
Painted on the walls of social housing blocks, they bring colour and art in to the lives of the people who live there.
"These people, who do not have houses, who do not have social housing, now have this whole mural which they can enjoy," says Mamani. "We are breaking another parameter. This comes in part from being from the Andes, with the sense of 'ainy' – 'give and take' – the idea that we share what you give me and what I give you, and what we have together."
Mamani, a descendant of the Aymara indigenous people, is self-taught, and began drawing with charcoal from the fire. He went on to develop a distinct personal style inspired by the colours, experiences and symbols of his country's indigenous population.
It was his grandmother taught him about the importance of his people's history and encouraged him to bring his Andean culture to life
"Knowing that it was for the Aymara people from El Alto, people who migrate from the country to the city, and who struggle to be able to achieve this, to integrate and transmit their culture, this has been more than a job, it's rather a testimony of my gratitude."
Mamani says his themes contribute to the struggle by Bolivia's indigenous population to keep alive their culture, embattled through colonisation and modern challenges, whilst providing art for all.