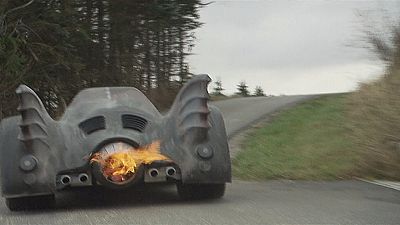 Taking your passion that step further – Austrian insurance trader Martin Hahn is a huge fan of four-wheeled celebrities. So he has decided to build replicas which he rides around Waldviertel in Lower Austria, giving the region a touch of Hollywood.
In this car he feels like just lilke David Hasselhoff in Knight Rider, the famous 1980's TV series: "This is a Pontiac Trans-AM, just like the original K.I.T.T. from the TV series," he explains. "Here is the tachometer. It measures rotation speed, oil pressure and water temperature. There is also a Turbo Boost – but it's not working at the moment – and an ejection seat button. Everything can be retrofitted, so I still have some time left before I retire," he smiles.
His collection of cars also includes the A-Team's famous van and the Delorean from 'Back to The Future' with Michael J. Fox: "It took me four months to build the A-Team van together with a friend in 2010. And I bought the Delorean from a collector in Los Angeles," he says.
His current project is the Batmobile from the 1989 Tim Burton movie. Like his other cars, this one is a combination of original parts and replicas. He bought the car body from a Bat Man fan in Ohio: "The control board and the instruments are from the original studio cockpit, there is only one in the world. Last June, I flew to Beverly Hills and bought it from a collector there," he explains.
However, making this car street legal might be somewhat of a challenge – not sure the Austrian authorities will agree with the vehicle's emission levels!