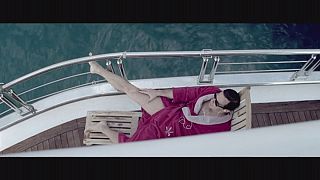 Making movies in the gloom of an economic crisis. The Greek cinema has continued to gain critical acclaim beyond the countries borders in 2015.
"Chevalier", a biting, playful dissection of the male ego, featuring six men on a boat was awarded Best Film at this year's London Film Festival.
Under the spotlight is male antagonism and competitiveness. It is a funny portrait of the contemporary male.
"It is the first comedy which I have shot. It won't be the last one. I am very interested in this genre and I think it is the most difficult, the most challenging. There is humour in all my films. I have developed my personal sense of humour and it is on some occasions underground humour, black or at other times less ironic.
'I believe 90 percent of film direction has to do with casting. That's why it takes me a lot of time to find the actors that will fit into my screen play. It is actually a puzzle. All the team has to find the best way to solve it. It is like cooking. You have to use small portions of different ingredients. I knew from the auditions the final, the correct recipe." the film's director, Athena Rachel Tsangari told euronews.
"Chevalier" premiered at the Locarno Festival earlier this year and since then has been shown at some of the major ones including Toronto, Sarajevo and New York. It is currently showing in cinemas in Greece and is set for international distribution in 2016.
"More Info": http://www.imdb.com/title/tt3526706/
The film "Interruption" was selected in this year's Orizzonti sidebar of the 72nd Venice Film Festival. It is inspired by a real-life event. In October 2002, 50 armed Chechens entered the Dubrovka Theatre in Moscow and took the audience of 850 hostage. It is the director's first feature film.
"The film is based on the ancient Greek tragedy, "Oresteia". Thus it includes all the fundamental issues of the Greek play: violence, power, the relations between the different characters, catharsis and justice. It is also haunted by the very strong sense of unfamiliar, or strange that also dominates Oresteia. It is this powerful unknown that we can't explain through reason, we cannot put it in terms and measure it," explained Yorgos Zois the film's director.
The next international stops for "Interruption" are festivals in Istanbul, Vilnius and Palm Springs. It is set for release in Greek cinemas next January.