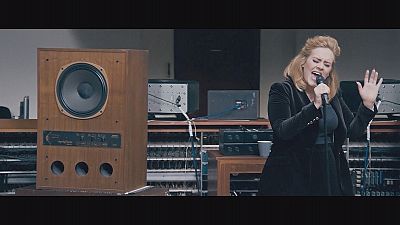 Adele has released her new album '25' her first collection since '21' hit the charts in 2011 selling 30 million copies worldwide.

Adele: 25 review – tell us what you think of the album via @GuardianWitnesshttps://t.co/k8XM69kapSpic.twitter.com/8U8jRo8ESR

— The Guardian (@guardian) November 20, 2015
Her second single single from '25' is 'When we were Young.'
Her first release 'Hello'
topped the charts in 28 countries. The single has already broken records for digital sales and video views. It became the first single to sell one million downloads in the week of its release.

Adele decides no streaming for new album '25' https://t.co/7u7GntUKnnpic.twitter.com/7quNG0aAjV

— Eyewitness News (@ewnupdates) November 20, 2015
Her work is not available on streaming services fans will have to buy it digitally or in record shops.