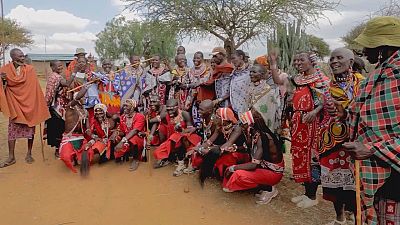 Hardly Lords on the first day of a test match, never mind 'Warriors' is a fascinating documentary which plots the progress of a group of Maasai who form a cricket team in a remote region of Kenya.

Recap: Our review of the rather excellent Warriors documentary, Maasai cricket #WakeTheLionhttps://t.co/chbhcraPgRpic.twitter.com/lM5bCCeBqH

— OC Movie Reviews (@OC_Movies) November 13, 2015
The director Barney Douglas explains how the documentary came about: "I saw a photograph of a warrior playing this cricket shot, all the beads flowing off and that was in a national paper maybe four years ago. I was obviously attracted by that, I thought that looks amazing. So I researched the story and I learned a bit more that the team was using cricket in their region to combat
FGM
(Female Genital Mutilation) and raise
HIV
/AIDS awareness as well. I felt that there was something more to the story."
Gaining access to the community involved some delicate negotiations as warrior Sonyanga Ole Ngais recounts: "First of all, it was not that, just easily going into the society and start filming, you have to explain because when they see, for example, these people from outside, you have to say who you are and we have to explain and let them understand that we are working together – they are part of us and this story we are trying to get from you guys. It's a story that is going to enlighten our society in some years to come."

Maasai Cricket Warriors fight end to FGM in new documentary https://t.co/6xF81Hqhn2pic.twitter.com/xnPCVl8LZ7

— Brits in Kenya (@BritsInKenya) November 12, 2015
The is an uplifting documentary from a part of the world, where poverty, disaster corruption and violence dominate the headlines.