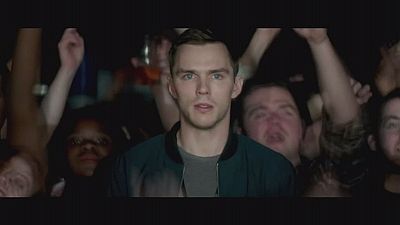 'Kill Your Friends' is a dark comedy-thriller that takes a satirical look at the hedonism within the British music industry during the Britpop craze of the Nineties.
Set in 1997, it stars Nicholas Hoult as a hungry music talent scout. Surrounded by greed and backstabbing, his ambition is driven to giddy heights which see him stop at nothing – including killing one of his work colleagues.
The film is an adaptation of John Niven's cult novel of the same name and is director Owen Harris' debut feature.
"It was a difficult film for people to get their heads around. But the book was the cult classic and it had a lot of fans. Ultimately, it's a satire. It's a very dark take on the music industry but there is a dark humour to it," says Harris.
Playing the drug-abusing, ruthless talent spotter may well be 25-year-old Nicholas Hoult's biggest challenge yet. The British actor first shot to fame as Marcus in 'About a Boy' at the young age of 12, and has gone on to play a mutant in 'X-Men', a manic petrolhead in 'Mad Max' and a zombie in 'Warm Places'.
"One of the things I really try and do is do varied characters and varied types of films," explains Hoult. "So I read this and was like 'Damn, this is very different to anything I've read and it's a world that I'm interested in'. So I found it very appealing and also John (Niven)'s writing is such a little window into the dark recesses of our brain, so it was exciting to explore that a little bit."
Opening to mixed reviews ranging from a gripping portrait of the Nineties music industry chaos to a poor man's American Psycho, 'Kill Your Friends' is out now.