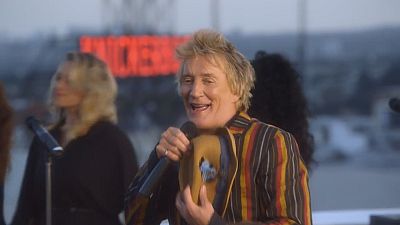 Seventy and still going strong – Rod Stewart has launched his eagerly awaited album 'Another Country'.
The singer, who came to prominence in the late Sixties and early Seventies with The Jeff Beck Group and his band Faces before enjoying solo stardom, has previously said song writing was a slow process for him.
'Time', released in 2013, was his first self-penned album in years, following several covers, including the popular 'The Great American Songbook' album series.
He says his attitude to penning tracks has changed with age: "Well not so much the skills, it's the pains I have to go through to actually write a song. They don't come easy to me. In the old days, when I was with The Faces and my solo albums, it was more like being at school doing homework but actually now I enjoy the process. It's something, I think, that has come with age."
While the trademark spiky hairdo and raspy voice remain unchanged, Stewart says his album is varied and includes some nostalgic songs inspired by very personal memories: "'Another Country' is – you know, I try to put myself in a position of being a soldier sent abroad, who's got a wife and children and misses them badly. And there's another one, 'A Way Back Home', which although I wasn't around, it's songs, it's memories I've garnered from my brothers and sisters and my parents about what London was like after the war."
With a series of Las Vegas and European gigs lined up, the legendary rocker says he has no plans to retire yet and is dreaming of taking to the stage in Glastonbury next summer with his band.
'Another Country' is out now.