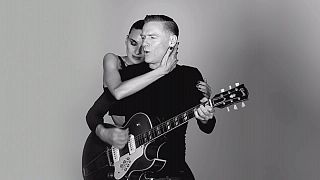 Canadian rocker Bryan Adams is back with a new album 'Get Up!' which he describes as the ideal follow-up record to his iconic 'Reckless' album of 30 years ago.
His first album of new material since 2008, it features catchy tunes like 'Brand New Day' and 'You Belong to Me', reminiscent of feel-good hits like 'Heaven' and 'Summer of '69' that made Adams a household name in the Eighties.
The award-winning singer-songwriter has sold more than 65 million albums worldwide and says he has never paid attention to shifting audience trends.
"I don't actually know what my target audience is and I don't know anything about the music business, so I just do what I do, which is make music, which is what I've always done. I've never really known all those kinds of questions. I just like writing songs that I like and that's it," he says.
Adams, who turns 56 in November, also has a passion for photography, with a new book on abstract photography due out soon. It follows a collection of celebrity portraits and a book of photographs of soldiers maimed in Iraq and Afghanistan.
He says it's healthy to have multiple passions: "I think what's nice about having another venue to be creative in is that you tend to get a break from what you do. You know that thing about 'A change is as good as a rest', so when I have to suddenly develop a whole thing for a book or if I'm doing a shoot for a magazine or something, it just takes you out of the frame for a minute into something else so when you come back into it you have a fresh perspective."
Adams also directed the promo clip of 'Brand New Day', starring British actress Helena Bonham Carter and Hurts frontman Theo Hutchcraft.
His new album 'Get Up!' is out now and he will be embarking on a world tour next year.