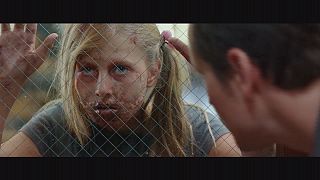 Former child actor Elijah Wood stars in a new horror-comedy movie Cooties. A mysterious virus hits the school where the failed writer teaches. His pupils turn into a swarm of mass savages.
"It was fun, it was really fun. You know, when you make a horror film the scenario is not as scary as ultimately made to be in the context of the film. So a bunch of kids running around with zombie-like make-up on was more hilarious and fun. It was like Halloween everyday for them," said the star.
Riots as even the most mild mannered kids turned into monsters with the grown-ups fighting for survival. The moral of the tale of a pupil revolution is don't eat chicken nuggets which was the source of the virus which struck the school. The comedy was not just restricted to the script as there was plenty of fun off camera Leigh Whannell.
"The surprise to me, actually, only because I knew him as a writer and the world knows him as a great horror writer with 'Saw' and 'Insidious', but Leigh Whannel, who plays the science teacher in the film is a revelation. I think he's one of the funniest parts of the film. She he's so deeply funny."
Cooties, which is written by Leight Whannell and Ian Brennan, is the first feature film directed by Jonathan Milott and Cary Murnion.
It is also available on DVD and Blu-ray in the UK now.