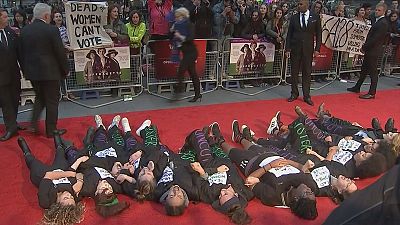 Feminist protesters campaigning against domestic violence stormed the red carpet at the premiere of 'Suffragette', which tells the story of British women who fought for the right to vote in the early 20th century.
The movie opened the 59th London Film Festival with an A-list cast attending the gala, including long-time women's rights defender Meryl Streep, Helena Bonham Carter, Anne-Marie Duff and Carey Mulligan, who expressed support for the demonstrators.
"This is exactly what the film is promoting. If you have a voice, you know, if you want something to happen, you have the courage to lie down like they are doing – stand up, or lie down, for what you believe in," said Helena Bonham Carter.
"We made a political film, why shouldn't there be some political activity on the red carpet? It's a reasonable protest, it's a female protest and this has got to be a pretty good platform to be heard on, on the red carpet, so I think: power to them," said Anne-Marie Duff.
Carey Mulligan echoed this feeling: "This is exactly what you want from a film like this and that's what we are so excited about: that people will leave the cinema or hear about the film and be inspired to take action on something they believe in."
'Suffragette' has been described as a valuable, vital film about how human rights are won, though director Sarah Gavron has also been criticised for what one critic called her flatly conventional snapshot of the British women's suffrage movement.
The film is on global release from now.