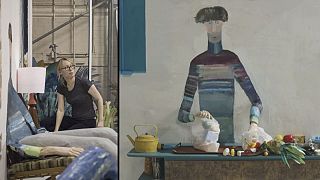 By
Joanna Gill
with
Womanthology, Dragonframe, Vimeo, Skwigly
The Bigger Picture is picking up awards left, right and centre, most recently scooping the prestigious Cartoon D'or prize in Toulouse.
I wanted life-size sets, massive characters, I was going to paint it all myself.
From director Daisy Jacobs, the animated short film tells the story of two brothers struggling to look after their elderly mother.
Marrying storytelling with technique its striking stop-motion visuals were made by combining 2D painted figures, on life-size sets interacting with real objects. Let's take a look behind the scenes.
"It's quite a surreal fun world but its actually a quite serious subject. its not complete fantasy, so for an example a pot won't move by itself, but if it's being poured by a character to suggest Nick's anger and frustration it will continue to flow and flow mirroring how he feels." Jacobs says the film asks the audience 'what should we do when our parents get old and need care?' The whimsically poetic stop-motion animation takes a darker undertone as Jacobs explores feelings of guilt and mortality.
She found inspiration for her illustrations in the work of painter David Hockney, in particular his sense of colour. She also counts animation director Osbert Parker among her influences.
"The technique came from originally wanting a 2D character, painted character to hoover a real room. I've always painted very large so I just thought, well I am going to start animating large as well.
"I thought how can I push this further? And through that I thought they need to reach into the space and actually interact with things to show that they are large. So that's when the 3D element came into play really."
MAKING OF for web from daisy jacobs on Vimeo.
Jacobs spent a year developing the technique, four months story boarding, five months animating and another two in post production.
"The most challenging section was the kitchen because it was the first time that we actually had two characters acting and the 3D arm element and the interaction with the papier mâché, the real world and the the non real world, and that was the first time that I properly worked with Chris."
"I was the prop maker and predominantly the stop motion animator," explains Chris Wilder. "So I made all the of the props and the various arms that we used, and for the most part animated them throughout the film.
"The technique that we decided to employ was a technique in which real objects would be pulled into the wall by a 2D character. This involved us having to source 3D objects because most of them were extremely heavy, a lot of them were crockery or kettles, we would not be able to attach them to the wall for long enough for us to take the shot. So they had to be much lighter, they had to be hollow essentially. What we had to to was to recreate that prop exactly from papier mâché."
The Bigger Picture received significant crowd-funding from a Kickstarter campaign. Once the funds were in place, the struggle to make the film wasn't over. In fact Jacobs says she was surprised at how low some particular scenes took to film but she said the main obstacle she faced was convincing people that the film would work.
"To actually convince people that I want to not draw something, not do a stop motion or even a smaller mixed technique – that I actually wanted life-size sets, massive characters, I was going to paint it all myself, we gonna make all these props – I mean I think at the time I said I believe that can probably make two (animation films) in that time but definitely wouldn't be able to do that."
Never shying away from hard work, Jacobs told Womanthology her future plans include world domination, but in her spare time she will make more films.
The Bigger Picture Trailer from daisy jacobs on Vimeo.