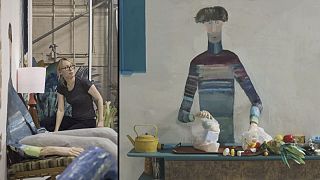 British animated short film 'The Bigger Picture' by Daisy Jacobs has won the Cartoon d'Or, a pan-European award for animation short films.
Daisy Jacobs uses two-metre-high painted characters in full-size sets to tell the darkly humorous tale of two brothers who struggle to care for their ageing mother.
Nominated for the 2015 Academy Award for Best Animated Short Film, 'The Bigger Picture' has won more than 30 prizes at international festivals including the BAFTA Award for Best Short Animation and the Cinéfondation Prize at the Cannes Film Festival (2014).
Daisy Jacobs studied at the National Film and Television School and Central St Martins School of Art in London.
The Cartoon d'Or was handed out in the French city of Toulouse at the 26th edition of the Cartoon Forum, a co-production platform for European animation series. The jury was made up of producer Philippe Delarue (Futurikon, France), film director Jan Bultheel (Tondo Films, Belgium) and producer Paul Young (Cartoon Saloon, Ireland). The winner received a 10,000 euro grant towards funding her next animation project.
The five other films nominated for the Cartoon d'Or were: 'A Single Life' by Job, Joris and Marieke from the Netherlands – also nominated for an Oscar – , 'Premier Automne ('Autumn Leaves')' by Carlos De Carvalho and Aude Danset from France, 'Brothers in Arms' by Cav Bøgelund from Denmark, 'Coda' by Alan Holly from Ireland, and 'I can't wait' by Claire Sichez from France.