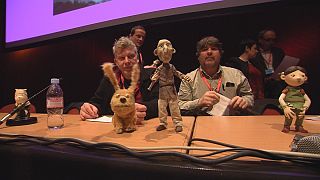 Which European animation films could come next to our cinemas? The answer may lie in Cartoon Movie, a business event for European animation filmmakers held each year in the French city of Lyon.
In March, producers presented their projects to co-producers, distributors and anyone who wants to invest in an animation film. This year over 750 professionals from the sector had a chance to discover 60 new projects – many of which will not only interest children.
"Many producers of documentaries and movies have finally started to make animation films – that means there are new, fresh themes and we will have more animation movies for grown-ups," told Cartoon Movie director Annick Maes told to Euronews' cultural reporter Wolfgang Spindler.
One striking example was a film project set in Kabul under the rule of the Taliban: "The Swallows of Kabul," based on the novel by Yasmina Khadra, examines the fate of women and love under the rule of Islamic fundamentalists. It portrays an Afghan society strangled by violence and hypocrisy.
The project was pitched by Paris-based animation powerhouse "Les Armateurs," which has produced many successful animation films in the past.
Another project pitched was "Mister Wu", in which French photographer Joseph Breitman tells the true story of his meeting with a Chinese man who travels with him as his guide on photo assignments in China in the 1980's. The characters come to bond when suddenly Mr Wu disappears – and the two never meet again.
"What I wanted to show with this film is the psychological and human relationship between two men, two very different cultures – it will be a hybrid movie mixing live action with comedians, some animation and my own photos," Breitman said.
"Cafard" is a Belgian, French and Dutch co-production which is set during World War One and is due to be screened at this year's Cannes Film Festival.
It tells the story of Jean Mordant, who is busy winning the title of wrestling world Champion when back home in Ostend his daughter Mimi is raped by German soldiers. Jean swears to avenge her.
Another film in the making, stop-motion animation "My life as a Zucchini," got great feedback at the event.
This quirky film about the life of an orphan boy is a French-Swiss co-production and its budget – around 6 million euros – was put together in previous Cartoon Movie meetings.
Cartoon Movie also featured an Irish folk tale called "Song of the Sea," a hand-painted animation film that has already been released in the United States, France and Denmark and has been nominated for this year's Oscars.
Since 1990, over 200 films pitched at Cartoon Movie
have secured their financing and have been released.