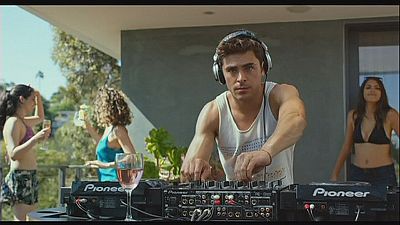 Heartthrob Zac Efron's latest role sees him playing an aspiring DJ climbing the Hollywood club scene ladder in "We Are Your Friends".
Yes, DJs are now the heroes of movies; – just don't expect to see Zac spinning tunes in real life.
It is already pretty heroic to be doing the day job, which in this case is
a coming-of-age story with the backdrop of Electronic Dance Music.
"It follows a young DJ as he's following his friends through the Valley and a lot of them who are mixed up in some shady things. He finds his mentor in an older DJ played by Wes Bentley and he teaches him to listen to his inner voice and that's when he truly finds himself and creates an original sound," says the 27-year-old star.
Efron stars opposite model-turned-actress Emily Ratajkowski, who first came to the public's attention thanks to her appearance in Robin Thicke's "Blurred Lines" video.
The 24-year-old kicked off her acting career with a recurring role on "iCarly" and then starred as the mistress of Ben Affleck's character in David Fincher's 2014 film "Gone Girl."
Did she find any differences between modeling and acting?
"It's funny because modeling you sort of have to think about what you look like and acting you need to completely forget it. But I guess not sort of worrying about how you look and not caring and putting the judgment of other people and defining yourself by that – that's been really helpful to bring that to the Hollywood side of things," she says.
"We Are Your Friends" opens this week in western Europe and the Philippines ahead of a weekend opening in the US, and then rolls out elsewhere the following week.
Other release dates:
France 26 August 2015
Philippines 26 August 2015
Germany 27 August 2015
UK 27 August 2015
Ireland 27 August 2015
Republic of Macedonia 27 August 2015
Netherlands 27 August 2015
New Zealand 27 August 2015
Portugal 27 August 2015
Lithuania 28 August 2015
Turkey 28 August 2015
Greece 3 September 2015
Hungary 3 September 2015
Bulgaria 4 September 2015
Iceland 11 September 2015
Italy 17 September 2015
Singapore 24 September 2015
Argentina 1 October 2015
Sweden 16 October 2015