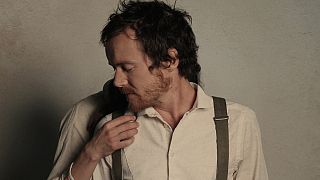 I confess that I have long cherished an image of Irish singer-songwriter Damien Rice as a gentle poet of romance and struggle. A night with Rice at the 'Nuits de Fourviere' festival in Lyon changed my mind. He is a poet, to be sure, but there is a lot more than poetry to a Rice live performance.
I am more than an occasional listener who hums along to the Damien Rice odd tune on the radio. He has been on my playlist for years and is, in fact, one of the songwriters that have shaped my musical taste from a young age.
Watching his show in Lyon, however, was not quite like meeting someone I already knew – it was more an encounter with someone I felt instantly that I would get along with.
Rice took to the stage with a glass of wine. He told jokes. He won over the crowd with performances in French of 'The Professor & La Fille Danse', which he made sound like a French chanson.
He was talking about his life in both English and French and asking for help with grammar and vocabulary from the rapt crowd in Lyon's Roman amphitheatre.
Constantly engaging with the audience, Rice also got into a conversation with a man close to the stage about his Instagram account, before agreeing to perform a song that had been named on there, but not released yet – rehearsing it there on the spot.
Pics Damien Rice, Lyon, Nuits de Fourviere, July 18 – magical night! Thanks for Mustard Seeds! DamienRice</a> <a href="https://t.co/4z16pV6cXA">https://t.co/4z16pV6cXA</a></p>&mdash; Lys (LysWant) July 20, 2015
However, if it was promoting his most recent release – the acclaimed album 'My Favourite Faded Fantasy' – that brought Rice to Lyon, he did not fully show it.
He played a set made up primarily of his older work. A highlight of the concert was when he divided the crowd into three sections for a group performance of 'Volcano', one of the breakout hits of his debut album 'O'.
The whole experience was moving and also fun. The romantic voice and beautiful melody of Rice's studio releases was there – but, beyond that, there was a power and energy in the way he connected with the live crowd.
Most of the star performances at this year's 'Nuits de Fourviere' festival, like most years, had sold out in advance. For the Rice concert, however, there still some tickets available on the night.
To any French music fans in Lyon who had doubts about snapping up a ticket – I would say that you truly missed out. My advice? Go next time.
Damien Rice through headphones and Damien Rice live on stage are two different Damiens. I am truly glad to have now met them both.
203/365 :: et Damien Rice est venu et nous a conquis #lyon#igerslyon#igersfrance#france#concert… https://t.co/sD5G3jzAWk

— Gemma Terol (@gemmaterol) July 19, 2015
Damien Rice. Intense. #NuitsDeFourvière2015#igerslyon#concert#rock#lyon#night#musichttps://t.co/MMcHMjlGwb

— Audrey Julienne (@OhLittleAudrey) July 19, 2015