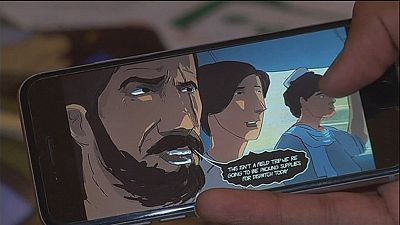 Gauher Aftab is a Pakistani comic artist and his latest three-part work 'The Guardian' deals with one of the major issues of our time, extremism.
The book follows two idealistic young men who join an extremist group because of its charitable work among the poor.
Both men then find themselves in a militant camp, one takes on board the violent message, the other rejects it and leaves.
Coming this June - A Graphic Novel Series by @CfxComics, written by Amjad Islam Amjad & Gauher Aftab - @arooj_aftabpic.twitter.com/BnwPlRMAv2

— Hammad Anwar (@manihammad) May 16, 2015
Aftab is creating from experience having been encouraged to join an extremist group in the 1990s:"If we don't act as a society or as people to counter this, then this is something that's going to get out of hand very quickly and that's why this is something that's very close to our hearts. Sooner or later we'll be discriminating against each other on the basis of the length of our beards or the kind of jeans that we wear and we will be willing to kill each other for that. This is a natural conclusion to this sort of ideology, the acceptance of this type of hatred, and this is true in Pakistan, this is equally true in the west," said the author.
A free app distributing the work is available and is seen as a vital contribution to counter the narrative of the extremists.
A number of projects are underway to prevent vulnerable young people from falling into the traps set by extremists. In Karachi, friends of the late Sabeen Mahmud, an activist gunned down in April because of her liberal views, have brought together 300 artists to paint over violent graffiti.
@Shahzebjilani from BBC Urdu interviews Ms. Adeela Suleman, Curator for I AM KARACHI's 'Reimagining the Walls of... http://t.co/OELlFGzYKv

— I am Karachi (@iamkhiofficial) June 30, 2015
Adeela Suleman is an artist involved in the project: "It's like reading, if you capitulate, if you read it all the time, then somewhere it does leave a mark and especially on young minds, especially our children who are trying to find their way. That's why. If you talk the language of hatred, hatred will be spread. If you talk about love, love will be spread."
The civil response to counter extremism will be greatly bolstered by the projects taking place in Karachi and Lahore.