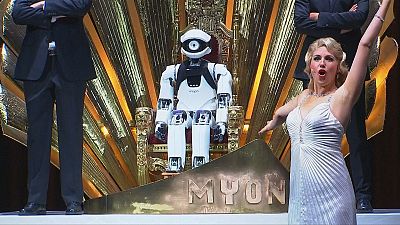 A small robot, the size as an 8-year-old child, is the unlikely star of the opera 'My Square Lady' at Berlin's Komische Oper.
The opera tells the story of how Myon goes on a discovery tour of the opera, learning from those who work there what makes opera so special. Slowly, the robot learns what it means to feel and express human emotions, and arouse them in others.
The opera is the brainchild of the international artist collective 'Gob Squad'.
"For us, the robot is a means to look at ourselves as humans, and to ask the question: what makes us human and what differentiates us from a machine or an object. And empathy and the ability to feel are quite crucial, I think, to do that. So looking at the robot we reflect on ourselves," says Johanna Freiburg, a member of the collective.
Developed by Berlin Humboldt University, Myon was not programmed but taught how to interact with the singers just like a child learns new actions. During the performance, the robot sees with its camera and hears with its microphone, reacting to sounds and remembering movements. The actions were initially triggered using barcodes but the robot has often surprised its creators, reacting differently than expected.
"Emotions decide where to go with the attention, and so there is an attentional frame," says Manfred Hild, head of the Neurorobotics research laboratory at Beuth University of Applied Sciences Berlin. "Should the robot focus on the object or does it get boring and has there been a noise? And so the robot turns to this side (he turns)… And it's the emotional mechanisms which are in place and guide the process."
'My Square Lady' starring Myon the robot runs at Berlin's Komische Opera until July 5.