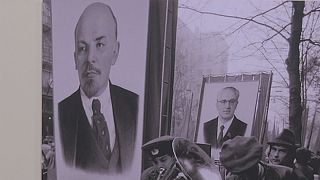 A new exhibition has opened at the Pinchuk Art Centre in Kyev, Ukraine, called "Borderline: Ukrainian Art 1985–2004" – exploring the development of contemporary art from the early 1980s until the recent so-called Orange Revolution.
The exhibition investigates the driving forces of socially and politically engaged art starting from the pre-Perestroika era. It presents more than 40 major works by prominent Ukrainian artists and art groups.
"One theme is the concept of "Perestroika", which influenced many artists at that time, said Bjorn Geldhof, the curator. "The second is identity; both personal and national, which was a major issue when the Soviet Union collapsed. And the third theme is the corruption of morals, which especially in the 90s was seen as a mirror of developments in society."
'Case History' by photographer Boris Mikhailov shows social oppression, poverty and helplessness amongst the homeless – people who after the collapse of the Soviet Union failed at starting their own businesses, people who didn't adapt to changing environments – to the transition from socialism to capitalism.
"When the Great Depression took place in the US, the American government financed photographers so they could show the Depression, "said Boris Mikhailov. "Nobody gave money to us, but we did what photographers did in the US at that time."
The topic of devastating poverty and the loneliness in post-Soviet Ukraine is covered by another artist. Serhiy Bratkov has created a video installation of an old lady gorging in a soup kitchen.
Sergey Bratkov, artist:
"That was shot in Crimea," said Sergey Bratkov. "An old lady who probably doesn't have relatives comes to eat her soup. She takes a jar of soup and she's so hungry that she even gathers up the bread crumbs."
Administrative chaos was one of the features of Ukraine during the 1990s, and is reflected in this installation called "Fountain of Exhaustion". It was created in 1994 when the water was cut off in the large city of Kharkiv for two months.
Pavlo Makov, artist explained: "That's a project from 1994. The lack of water symbolises society's exhaustion, the inability to continue life the way it was before. Unfortunately, since 1994 not too many things have changed."
The artists exhibited are defining the position of art in post-Soviet Ukraine, and seeking to confront the country's history, regain artistic freedom and develop a critical artistic voice. Their work reflects a society that has had to re-invent itself through instability, ideological shifts and social changes.
The exhibition runs till October, 2015.
MORE: http://pinchukartcentre.org/en/news/28915?date