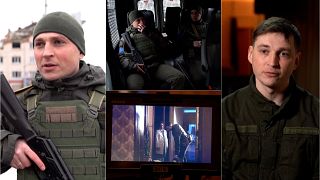 "We stop offenders, we detect sabotage groups, we look for suspicious people."
These words belong to Anatol Fon-Filandra... A former Ukrainian actor now turned into a soldier after the mobilisation in the country started to shoot a movie and returns to the big screen again.
Filandra was a professional Ukrainian actor before turning to the military after Russia's invasion in February 2022, when he became a serviceman in the National Guard of Ukraine. Today, he is once again in front of the cameras and on the big screens.
"My comrades found it very funny when they learned about my profession, about what I did before the war. There were very different reactions. For example: "give me an autograph, so that in 10 years it can be sold for a large sum." says Filandra who utters these words while keeping watch in Chernigiv streets.
For four days only, he received a special authorisation to play in a short movie entitled "Let there be sunshine and let darkness perish" a love story taking place during wartimes.
"Military affairs are quite routine and monotonous. Day in and day out, you have to do some unpopular things. But these actions have very significant results in the long run. My objective with this project is to draw attention to the military, to the problems that exist." says Filandra and explains the situation that his country faces.
The director of the movie Igor Tykhomyrov wrote the screenplay before 2014. But he says that it still turned out relevant today.
"I think that the fact that we didn't shoot it until now makes sense today. Today is the time to talk about things like that. We got permission for Anatol to play in the project from the National Guard in a rather easy way because we first sent the script, they read it, they understood that the story was patriotic, full of sense, that it was serious cinema." adds the 51-year-old cinematographer.
Igor Orynko, Commander of the military unit 3082 of the National Guard of Ukraine says that sometimes new soldiers had more motivation than the old ones and Anatol is apparently one of them.
"There are people who were already serving (in the military), people who were learning. He wasn't fighting, he wasn't learning, but he just came (Anatol). And I will say that he has the motivation and the desire to defend your country, sometimes even more so than a person already in the military, who had already learned," says Orynko.