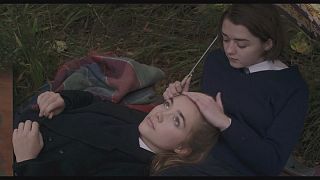 Set in a strict English girls' school in 1969, 'The Falling' tells of a mysterious fainting epidemic that breaks out in the aftermath of a tragedy.
Maisie Williams plays the troubled Lydia, whose intense friendship with the charismatic Abbie is threatened by the events.
When her own symptoms worsen, Lydia rallies against the school's authorities and sets out to find the cause.
Director Carol Morley also wrote the screenplay: "I love the idea of mass hysteria because it was a collective, it was a group of people, mass psychogenic illness as it's called now. I really wanted to set a film in a girls' school because I think there's so much possibility looking into adolescent girls, a girls' school, a strict girls' school, a grammar school from the Sixties," she says.
When 18-year old British actress Maisie Williams, better known as Arya Stark in the TV series 'Game of Thrones' read the script, she was fascinated by the different layers of her character: "I knew I could do it and I knew I wanted to be Lydia," she says.
"I knew that I could find that and I knew that that was who I was and I was just shocked to know that Carol Morley, our director, she saw that too and I was just so intrigued as to how she knew that. No one has ever seen me in a role like this before."
Described as a wonderfully strange and funny film about forbidden desire, the movie has opened to mostly positive reviews with praise for lead actresses Maisie Williams and newcomer Florence Pugh.
'The Falling' is out now in the UK and Ireland.