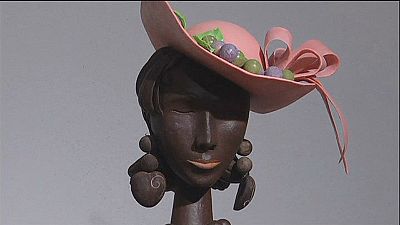 Welcome to Obidos and its International Chocolate Festival.
Whether they like it dark, milk or white, each year around 200,000 visitors gather in this medieval Portuguese town to indulge on chocolate, chocolate and more chocolate.
The theme of the festival this year is love.
"Obidos is a romantic town and many people come here to be with their significant other," said Ricardo Ribeiro, the festival's organiser.
"Obidos is a land of passion. When we like someone we offer them chocolates, so I think it's the perfect connection. And here is the place of the great love story between Pedro and Ines – so you have Obidos, chocolate, and their common denominator, love: it's the perfect connection."
If there's a real-life equivalent to Romeo and Juliet in Portugal it's indeed the forbidden romance between Prince Pedro and Ines in the 14th century.
Pedro's father, King Afonso IV, opposed the union and ordered to kill Ines, but Pedro swore to avenge her and launched Portugal into civil war.
The tragedy has inspired many artists and poets across the centuriers. Today, it is being celebrated in Obidos with some mouth-watering sculptures.
But chocolate is not the easiest material to work with, as artist Diogo Esteves explains: "We need to be careful with humidity, because water ruins chocolate just like heat does. This is why we use air conditioning to control the room's temperature. The sculptures cannot stand variations in temperature, otherwise they can be completely ruined."
Children here get their own house of wonders where they can combine their favourite foods: pizza and chocolate, complete with marshmallow and candy toppings… Yum.
Meanwhile grown-ups can drink up a traditional sour cherry liquor – in a chocolate cup.
The Obidos Chocolate Festival runs until May 3rd.