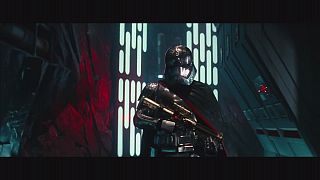 The new Star Wars trailer did its best to break the internet. Over 66 million people clicked on it, such is the feverish anticipation ahead of the upcoming seventh instalment of the intergalactic saga.
The movie will bring old faces back, and introduce some new ones.
Director J. J. Abrams is something of a sci-fi specialist, and has already been credited with reviving the Star Trek franchise. All the actors were sworn to secrecy about the plot of the movie and even their character's name
"I was a fan of J.J.'s already. And when I met with him, he was very open about it. And this notion of all secrets and all keeping everything close to your chest -once we were talking about work, he was very open," says actor Domhnall Gleeson.
Oscar Isaac, who recently starred in "A most violent year" was recently at a Star Wars convention in Anaheim, California, where Abrams unveiled the movie's second teaser trailer.
"Star Wars created a culture, there's a whole culture around it, which is such an unusual thing. And a culture that transcends where people are from, just like you said," said Isaac.
The first film in the series was released in 1977, instantly making Star Wars movies a worldwide pop culture phenomenon. Gleeson, however, missed creator George Lucas' original films the first time around.
"Yeah, they were kind of slightly before my time," he said. "I was born in '83. They weren't all the rage. I was more of an Indiana Jones kid I guess, you know. But then watched them all in the run-up to, or rewatched them, whatever it was, in the run-up to making this one or whatever. And I just really, really enjoyed them. It was nice to rediscover them."
Lucas is one of the American film industry's most financially successful filmmakers and has been nominated for four Academy Awards for directing and writing American Graffiti (1973) and Star Wars (1977).
In 2012, The Walt Disney Company acquired Lucasfilm for $4.05 billion and announced that it would produce three new films. Lucas took on a consultant's role.
The new movie is set approximately 30 years after the events of Return of the Jedi, made in 1983. "Star Wars: The Force Awakens" is set for release in December.